I had a laugh giving Jerry Seinfeld a copy of my book Challenging the
Myths of Autism!
At the Toronto East General Hospital's Premier fundraising gala of 2012 , MC'd by Will Arnett, Seinfeld kept us all laughing- what a spectacular evening!  Both were generous in giving their time and talent to raise funds for the hospital.
I was honoured to attend the gala and knew that Seinfeld had a connection to autism. In 2009, Seinfeld co-hosted a benefit concert for 'Autism Speaks' in New York, with mega-star musician Bruce Springsteen. He told reporters, he was motivated by friends who have a son diagnosed with autism. Knowing this, I took the opportunity at the Toronto gala to give Jerry a copy of Challenging the Myths of Autism which has been inspiring parents and professionals to reframe their understanding of people diagnosed with autism in to a more positive and hopeful view.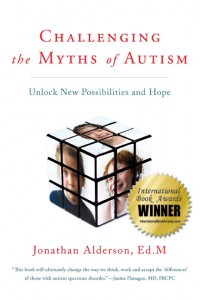 When it was my turn to have a photo taken with one of the world's funniest men, I said
"Jerry, your set at the gala in Toronto was hilarious! When you're done reading the book, I hope you'll pass it on to your friends and that it brings them hope and positive strategies for their son."
Cheers!