While April is the world-wide Autism Awareness  month, in Canada October is too.  And to help kick-off this important month to rise greater public awareness of this increasing diagnosis, three Canadian authors representing their latest books on autism will present a panel to discuss their ideas on autism and autism awareness.
Parents, professionals and the general public is invited to this free event hosted by Chapters-Indigo at the ManuLife Centre (Bay and Bloor) in Toronto at 7:30pm. Lindy Zaretsky, the Executive Director of the Geneva Centre for Autism, will host Jonathan Alderson, Autism Treatment Specialist and author of Challenging the Myths of Autism,  Joel Yanofsky, parent and author of Bad Animals, and parent and autism advocate Arthur Fleischmann author of Carly's Voice.
The books:
Carly's Voice
At the age of two, Carly Fleischmann was diagnosed with severe autism and an oral motor condition that prevented her from speaking. Doctors predicted that she would never intellectually develop beyond the abilities of a small child. Although she made some progress after years of intensive behavioral and communication therapy, Carly remained largely unreachable. Then, at the age of ten, she had a breakthrough.
While working with her devoted therapists Howie and Barb, Carly reached over to their laptop and typed in "HELP TEETH HURT," much to everyone's astonishment. This was the beginning of Carly's journey toward self-realization.
Bad Animals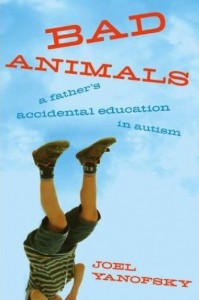 Winner of the QWF Mavis Gallant Prizefor Non-fiction
Joel Yanofsky tried for years to start this memoir. "It's not just going to be about autism," he told his wife, Cynthia. "It's going to be about parenthood and marriage, about hope and despair, and storytelling, too."
"Marriage?" Cynthia said. "What about marriage?"
A veteran book reviewer, Yanofsky has spent a lifetime immersed in literature (not to mention old movies and old jokes), which he calls shtick. This account of a year in the life of a family describes a father's struggle to enter his son's world, the world of autism, using the materials he knows best: self-help books, feel-good memoirs, literary classics from the Bible to Dr. Seuss, old movies, and, yes, shtick. Funny, wrenching, and unfailingly candid, Bad Animalsis both an exploration of a baffling condition and a quirky love story told by a gifted writer.
Challenging the Myths of Autism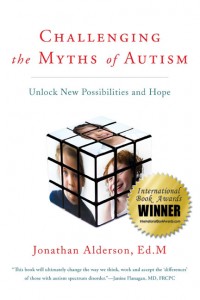 How many times have you heard that people with autism reject affection? That they lack creativity or that the majority suffer from mental retardation? As the number of children diagnosed with autism surges, researchers and educators are racing to define the amorphous nature of the spectrum disorder and its wide range of symptoms. But in trying to characterize this widely varying group, stereotypes in the media, in academic journals and even in textbooks often perpetuate a host of limiting and potentially damaging misconceptions. These myths don't hold up when examined, and they don't reflect Jonathan Alderson's experience working with more than 2,000 children and families over two decades.
Provocative and meticulously researched, Challenging the Myths of Autism (Harper Collins, 2011) looks at the most prevalent fallacies about autism, explains how they developed, examines why dispelling them matters and, most importantly, sets out a new understanding that will change the way parents and professionals view people with autism. Using many compelling examples from his own practice, Alderson charts a whole new realm of possibilities for treatment and research.
Please join us on October 1st, at 7:00pm in the ManuLife Centre Chapters-Indigo bookstore at Bay-Bloor, Toronto. See you there!